What's on at Castle Kennedy Gardens
Enchanting Holiday Cottages
-
Date: Available throughout the year
Discover and book one of our luxury historic Holiday Cottages.
Read more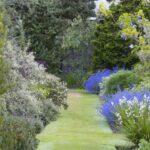 Silent Space Initiative – Switch off in the gardens
-
Date & Time: Wednesdays, 2pm – 4pm
Castle Kennedy Gardens is a member of the Silent Space Initiative. Every Wednesday the Walled Garden will be a place where you have to switch off your phones, and step into the wonderful world of silence.
Read more
---