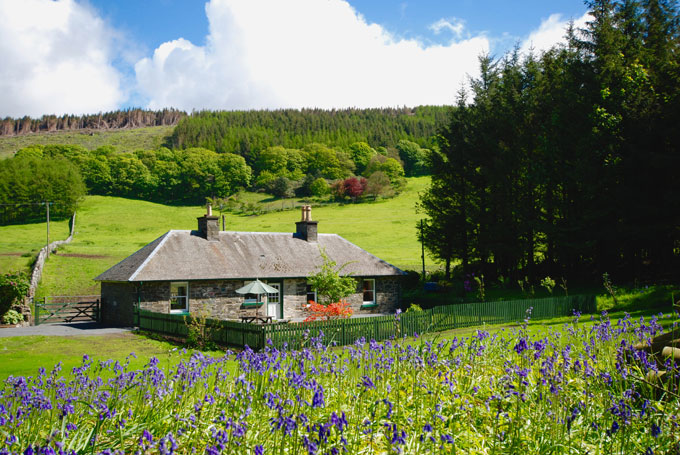 DESCRIPTION
GALLERY
MAP
FLOOR
PLANS
GUEST
COMMENTS
FAQs
Dogs Allowed: Yes
Fire or Stove: Yes
Sleeps: 4
Beautifully restored and carefully finished to an exceptionally high standard, this beautiful self-catering property retains many of its original features and is set within a designed landscape.
Ice House Cottage is situated close to the remains of the Victorian Ice House and is a short walk from the Home Farm and Lochinch Castle, which form part of the Lochinch Castle Heritage Estate.
Ice House Cottage is a picturesque single storey building with Farrow and Ball walls, Colefax and Fowler fabrics, luxurious White Company bed linen and a mixture of antiques and contemporary furniture. The Cottage enjoys a peaceful aspect overlooking an extensive garden and the picturesque hill known as Balker Brae and Balker Moor beyond.
The centrally heated Cottage has a sunny, comfortable living/dining room with a log burning stove, stylish fully equipped kitchen with a Belfast sink, two gorgeous bedrooms, a well-appointed bathroom, luxurious bed linen and large towels from the White Company, flat screen TV, wi–fi, a large garden, climbing frame, out-building, free fire logs, bikes and private car parking.
Guests are able to enjoy unlimited access to Castle Kennedy Gardens and the surrounding Lochinch Castle Heritage Estate, and all that they offer through-out the different seasons.
A welcome pack is provided for guests on arrival including a bottle of milk, bread, jam, butter, tea, coffee and fresh flowers from the garden (when in season). The cottage is well equipped with the general basics from washing-up liquid to bin bags and loo roll.
This is a perfectly peaceful haven for a special occasion or just to relax and unwind.
At a glance, Ice House Cottage offers:
Sleeps – 4
2 Bedrooms (a double and a twin)
1 Bath (bath and shower)
Log Burning Stove (logs provided)
Cot and high chair available on request
Large garden with climbing frame/swings, barbeque area and outdoor furniture
All pets welcome with advanced notice
Private parking area
Kitchen Appliances: Gas hob, Electric Oven, Dishwasher, Microwave, Washer/Drier, Fridge/Freezer
Entertainment: Flat screen TV, Freeview Box, DVD player, wi-fi, iPod dock
The White Company bed linen and towels
Selection of CDs, board games, classic films and books
Pay phone and hair dryer
Cycling – 2 adult and 2 children's bikes included at own risk
Map and Location Information
Located on a private road close to the home farm, Balker Farms, Ice House Cottage is situated in a valley overlooking the Galloway Hills, approximately 3 miles from Stranraer.

Detailed Room Description
The front door opens to an attractive passage, which connects with the main living area, kitchen, bedrooms and bathroom.
The sunny and welcoming sitting/dining room has a wood burning stove and plenty of comfortable seating, TV, DVD and Freeview Digital receiver along with an ipod dock/speaker system and a midi sound system. . A selection of classic films, books and games should while away a few hours and a dining table that can seat up to 6 completes the room which overlooks the garden and surrounding wood in one direction and the fields and hills beyond in the other.
The stylish new kitchen is well equipped with a Belfast sink, dishwasher, fridge, freezer, clothes washer/dryer, breakfast area and a microwave, cooker and an oven.
The pretty first bedroom contains twin beds with comfortable mattresses and the second larger room has a superb quality king size bed. The bedrooms are prepared with the finest cotton bed linen and luxuriously indulgent soft towels from The White Company.
The bathroom contains a new, traditional white bath, sink and w.c. with a powerful over bath shower.
Outside, there is a large private garden that contains some beautiful flowering plants, a climbing frame with swings, an outside seating area area and a log store. An attractive traditional stone outhouse in the garden contains a barbeque, bicycles and garden furniture. There is ample private car parking at the side of the property.
What you need to know about this property
Does this property allow dogs?
Yes. We welcome all well-behaved dogs, and permit a maximum of two per property. They must be kept off furniture and be under proper control.
How is this property accessed?
Via an estate drive.
What is the nearest station and how far away is it?
Stranraer Station, 3 miles away
Is there a private car park?
Yes, adjacent to the property
What type of heating does this property have?
Central heating and an open fire
How can I get fuel for the open fire or stove?
Logs are provided at no additional cost
What are the kitchen facilities?
The kitchen is fully equipped with all plates, cutlery, and cooking implements. There is an electric hob and an electric oven, a dishwasher and a fridge freezer.
What are the bathroom facilities?
There is one bathroom with a bath and shower attachments.
Does this property have a staircase?
Yes. The Apartment is access via a staircase as it is located on the first floor.
Is linen provided?
Yes bed linen and towels are provided. All the beds will be made up prior to your arrival.
Will there be a mobile signal?
Mobile coverage can be patchy and intermittent. A payphone is available to use.
Is there WiFi?
Yes there is WiFi.
Is there a garden or outside space?
There is a private garden to the rear of the property for your use. Unlimited access is also given to Castle Kennedy Gardens and the surrounding Lochinch Castle Estate.
BOOKING AND PAYMENT
Will I need to pay a deposit?
If your stay starts more than two months from the date you make the booking a deposit of 50% is required at the time of the booking.
How can I pay?
We accept Maestro, Visa, MasterCard, direct transfer and sterling cheques drown on a UK bank. All payments must be made in sterling.
How do I pick up a key?
Our Housekeeper will be in touch with you the week before you arrive to confirm the arrangement.
How can I cancel or change my booking?
If you wish to cancel or change your booking please email housekeeping@lochinchcastle.com or call the Estate Office on 01776 702 024.
What if I arrive late?
Please let our Housekeeper know if you will be arriving late.
Do you accept payment in other currencies?
We only accept payment in sterling
How far in advance do I need to book?
It depends. Our properties can be booked up a long time in advance, but they can also be booked at short notice. It's worth checking our availability list.
STAYING AT OUR HOLIDAY COTTAGES
Do you provide catering?
If required we can provide a tasty homemade meal ready to heat up, on arrival and/or breakfast ingredients for the following morning, particularly welcome if you are anticipating a late arrival. Wherever possible the above food items will be locally sourced. For more information email housekeeping@lochinchcastle.com.
Do you allow dogs?
We welcome all well-behaved dogs, and permit a maximum of two per property. They must be kept off furniture and be under proper control.
Insured if I break something?
We do not carry insurance for breakages. However we appreciate that accidents do sometimes happen. If you have a breakage during your stay, please let the Housekeeper know and if appropriate we reserve the right to withhold the deposit and to invoice you accordingly.
Is it suitable for children?
Yes, our properties are perfect for children, with gardens to play in and secret places to discover. We positively encourage families to stay.
Is it accessible for people with disabilities or limited mobility?
Ice House Cottage is suitable for people with limited mobility. We recommend that you contact our Housekeeper to confirm specific requirements.
Can I get married there?
Yes, Lochinch Castle and Castle Kennedy Gardens are licensed to hold weddings.
Can I hold a big party there?
Our properties are perfect for gatherings of family and friends. You may invite an additional two guests to visit during your stay; however they must not stay overnight. This is important because our fire regulations specifically note the maximum number of people in any one building. In addition our properties are prepared, furnished and equipped for the number of people specified. Should this be ignored we will make a retrospective charge per person per day.
< Back to Gallery