Last weekend many mums, dads and grandparents were reliving childhood memories. It was really nice to have such enthusiastic people at my events. And also lovely to see all the families working together. Some of the parents seemed to enjoy themselves more than the children too!
Both the shelters we made were big hits. Did you know that there are SHARKS at Castle Kennedy Gardens? We started by pretending that everyone got stranded on a tarpaulin desert island which kept on getting smaller as the tide came in. Most people managed not to fall off and so didn't get eaten by sharks.
We used the tarpaulins, ropes and poles to make our tepees. When they were finished they looked great against the Castle and we left them up over lunchtime so that people could use them. Some people even had their lunch in them!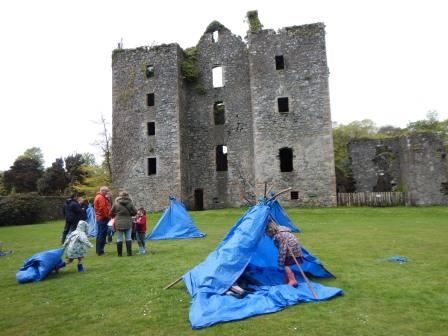 We have left lots of dens from the afternoon session around and the children wanted to challenge you to see how many you could find? I didn't think that that was fair because we were using natural wood and moss and they are really well hidden. Let me know if you see them! We also made some leaf and flower kebabs to decorate our shelters.
Our next activities are making and cooking on a fire. In the morning it will all be about lighting and being safe around fires. In the afternoon we will do some cooking. I can only take so many people to make sure that everyone is safe so book early. People who come in the morning will have the first chance to come on the afternoon session – it makes for a great family day out in Scotland so I look forward to seeing you there!
---
< Back to News & Social